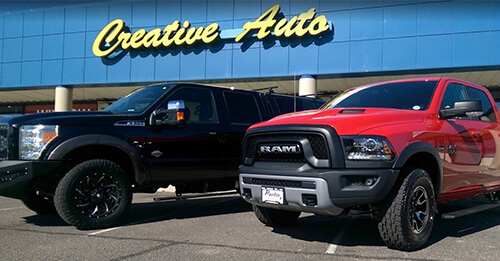 Want to increase your vehicle's privacy? Protect the interior from sun damage? Lower the chance of break-in or theft? Window tinting is the answer.
The benefits of vehicle window tinting in Pueblo, CO far outweigh the cost of installing it, making it one of the best accessory investments you can make. And, when you choose Creative Auto, you can rest assured our work will hold up over time, for an investment that really pays off.


XPEL Automotive Window Tint

We use XPEL Automotive Window Films for all window tint installations. Recommended by the United States Skin Cancer Foundation, these window tinting film options boasts UV Ray Protection of SPF 1,000 that effectively blocks over 99% of harmful UV rays that lead to numerous skin cancers, premature aging, and skin cell damage. Not only will you be protecting your health and safety, but you'll ride in style and stay cool too. XPEL's Automotive Window Tint rejects 98% of infrared heat from a patented technology and provides greater clarity to provide high performance without reducing visibility. Unlike Window Films of the past, XPEL doesn't interfere with radio, cellular, or bluetooth signals.

Every XPEL Automotive Window Tint installed by Creative Auto in Pueblo, CO is backed with a lifetime manufacturer's warranty. Your film won't bubble, chip, peel, or curl. If there's a problem for any reason, you're covered by XPEL!

Select from several distinct lines of auto window tint for a customized option depending on your needs and preferences. We can explain the differences to ensure you make the right choice every time. Call (719) 542-0500 today to set up an appointment.

XPEL carries a wide variety of options. Click here to learn more.
The Installation Process

Our in house Tint installers specialize in window tint and paint protection film installation. Creative Auto has been offering window tint and paint protection to the Pueblo and Southern Colorado area for near a decade. Our window tint patterns are now computer cut for laser-like accuracy and speed of installation. At creative auto we keep a multitude of Lifetime warranty films on hand for your specific needs, from Color stable films to Ceramic based films for maximum heat rejection, we have them all on hand. Window tint projects take on average 1-4 hours depending upon the scope of work we are doing to your vehicle. Customers may drop their vehicle off or hang out in our customer lounge while the work is being completed.

Thank you, and we look forward to seeing your ride in soon for your window tint needs.
Need Window Tint?
Of all the car parts or accessories in Pueblo, Baxter, Vineland, Salt Creek, Pueblo County, Stem Beach, or Blende, CO to benefit your vehicle, window tinting is one of the best investments you can make.
Contact Creative Auto today at 719-542-0500 to learn more about our capabilities or to schedule a tinting or car detailing appointment. Our window tinting services are available Monday through Friday by appointment.